February 24, 2020
Fredrik Ahlén, Senior Global Security Advisor – you have been working at Vesper Group for about a month now. You have over 15 years' experience in the private security industry where you have served the operational level as executive bodyguard and high-risk close protection officer, instructor and security coordinator for several states and private actors. You have also led and developed projects in complex environments and you hold an advanced academic degree.
Your experience from complex high-risk environments is long, especially East Africa. Tell us, what do you consider most important for customers to think about when doing business in that region?
There are a few factors that are particularly important to consider which have been historically observed in fragile, conflict or post-conflict environments. These underlying factors, central obstacles to the democratization process, are e.g. poverty, inequality and corruption on one side and insurgencies on the other.
These ingredients are repeatedly recognized when evaluating the cocktail of the conflict. Often the focus is predominantly on terrorist related activities. Subsequently, it is important to establish that the residual risk correlates with the client´s established risk appetite by implementing mitigating measures. But it is also crucial for mission success as a security partner to identify intangible obstacles impacting on the mission's success.
Corruption is not tangible in the same way as terrorism. Thus, it is one of the main obstacles for projects to be successful. As an example, in the world's most fragile states, it is easy to pay taxes or other fees without ensuring that the receiver is a legitimate state agent. Failure to establish the legitimacy of the receiver could lead to allegations of financing of terrorism as in the Warlord, Inc case. As globalisation reaches the most rural areas of the world, new risks emerge. Vesper Group is a certified ICoCA member and therefore we can assure that our clients comply with international, national and customary law.
To conclude; there is usually a gap in the risk mitigating measures focusing narrowly on tangible risks e.g. terrorism. Although that is at the core of our business, it is essential for our clients, working in these environments, to identify, consider and understand how corruption affects the security situation and their projects. Vesper Group can enable missions for states, donors and multinational corporations during state-building processes.
You are a member of the board of directors of the International Code of Conduct Association, ICoCA. What is the role of ICoCA?
The purpose of the Association is to promote, govern and oversee implementation of the International Code of Conduct and to promote the responsible provision of private security services respect for human rights and national and international law in accordance with the Code.The board consists of representation from governments, civil society and the private security industry, forming part of the General Assembly. As a member of the board of directors I was elected to represent the security industry pillar ´at large´.
The Code includes a wide range of standards and principles for the responsible provision of private security services which can be broadly summarised in two categories. First: principles regarding the conduct of member company personnel based on international human rights and humanitarian law standards including rules on the use of force, sexual violence, human trafficking and child labour. Second: principles regarding the management and governance of member companies including the selection, vetting and proper training of personnel.
What should our customers expect from you?
Our mission is to protect people, property and information anywhere we operate. We are business enablers – worldwide. I believe, that in order to ensure a competitive advantage, we need to provide strategies through an innovative tailored security risk management approach mixed with a broad spectrum of expertise in business and project management and be abreast of the latest academic research.
Private security services are evolving from the typical one size fits all approach consisting of guns, guards and gates to a full range of security risk management services. Change is constant, so security needs to support change. Therefore, our clients can expect Vesper Group to be the spearhead in the global security industry establishing new best practices.
I will contribute to the further development of Vesper Group´s capacity with a mix of expertise. It ranges from practical industry perspective, strategic planning and development of projects in complex environments to advanced research in the field of international security, international law and other relevant academic fields.
What motivates you most at work?
To work with the most skilled professionals in the industry and the continuous strive for improvement. I am a business enabler constantly increasing our serviceable market. I compose the strongest teams available on the global market to provide our customers with state-of-the-art security solutions that always exceed our customers' expectations. A success factor is to know our market and tailor our solutions to our customers framework or management system.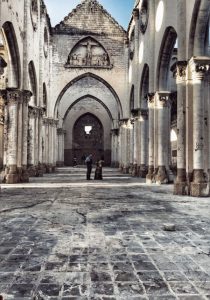 At work in the Old Town of Mogadishu, Somalia.