November 1, 2019
Being a provider of security services in high-risk environments is a big responsibility. Part of our quality assurance work is commiting to and working in accordance with the principles of International Human Rights and Humanitarian law. During the summer Vesper Group was reviewed by MSS Global and we are proud to have been re-certified.
The comprehensive review showed that Vespers Group's management system is compliant with the demands of ISO 9001, ISO 18788 and PSC.1. These certificates are a part of our commitment to live and work in accordance with the best practice of the security industry and to contribute to development and promotion of the standards. It also shows that we are serious actors who acts responsibly in the contexts where we operate as wells as towards our clients.
We have high standards when it comes to compliance, ethics and performance. Vesper Group is a member of International Code of Conduct Association, ICoCA, who oversees the private security services. We are also members of Security in Complex Environments Group, SCEG, a British special interest group that gathers companies that are well regulated, compliant and have embraced international security standards with human rights issues at the core of their business models.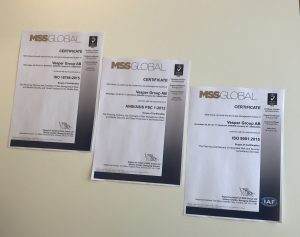 Vesper Group's certificates.