11 November, 2021
Earlier this week the ASIS chapter for Sweden arranged a seminar on human rights and security. Keynote speakers were Jonas Westerlund from Swedish Ministry for Foreign Affairs and Richard Möller, CEO of Vesper Group.
Universal declaration of human rights, The Montreux document and ICoCA
Jonas Westerlund, who has long experience from multinational work within Nato, EU and the UN in countries such as Afghanistan and Iraq, opened the seminar by describing the historical context. He spoke about the UN human rights declaration of 1948 and the Montreux document; an agreement between signature countries on obligations regarding the use and conduct of private military and security companies in war zones. He also explained how the Swiss initiative of International Code of Conduct Association came about and evolved after the Nisour Square massacre in Iraq in 2007.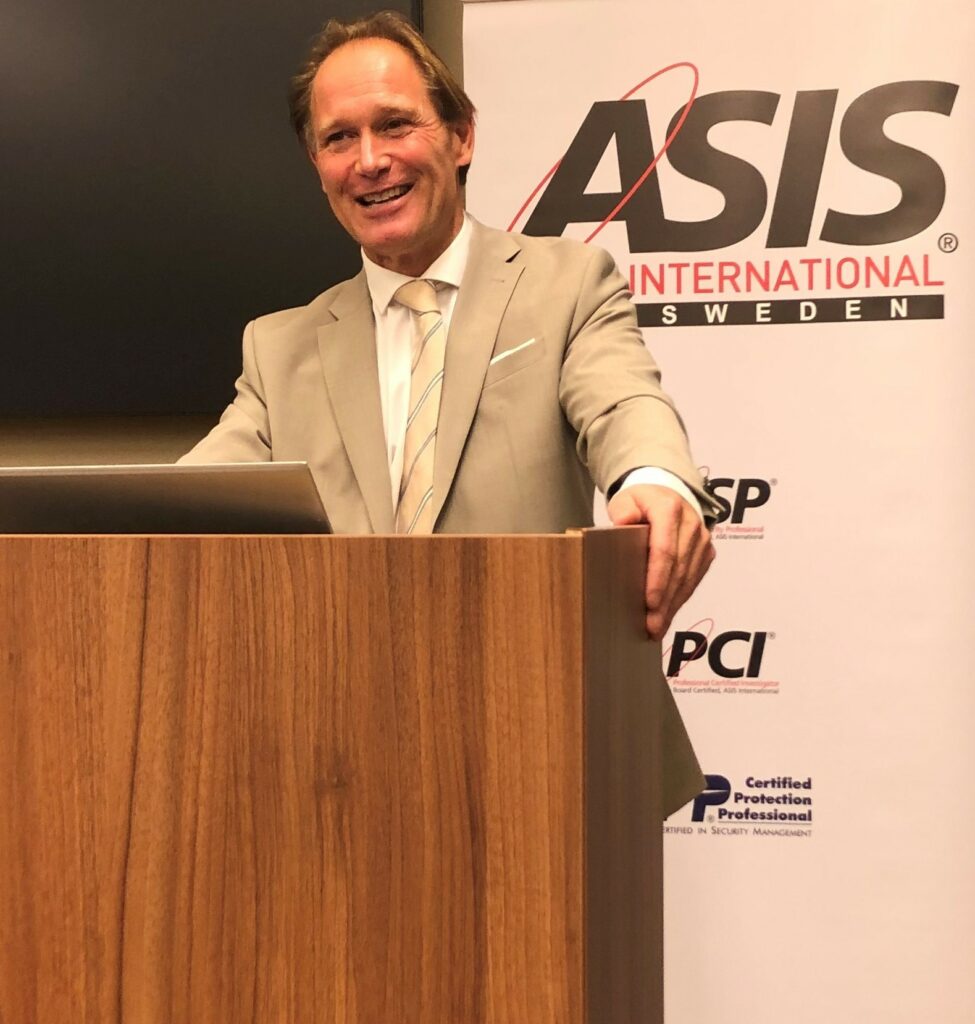 Jonas Westerlund, Swedish Ministry for Foreign Affairs
ICoCA: guidance for ethical way of working
During 2010-2013 the code of conduct for private security companies was put in place. Two years of work then followed to determine the certification process for member companies. Mr. Westerlund described the difficult work and the tough discussions between states, companies, and human rights organisations, and how it was a good thing they took place in that forum. He pointed out that ICoCA is an initiative that chiefly informs about ethical conduct, although the organisation also holds a whistleblower function and the capacity of excluding non-compliant members.
Many years of work to become certified
Richard Möller described the long and hard work that led to Vesper Group becoming the worlds' second company to achieve ICoCA certification in 2017. From the start in 2004, Vesper has been a company defined by high ethical and moral standards and doing the right thing. Mr. Möller described Vesper´s evolution in this regard in four steps:
The handshake and promise – always delivering as promised gave Vesper returning customers.
Becoming documented – creating a conceptual framework.
Becoming documented and standardized – working according to certain standards (ICoCA's) in all processes.
Certification – regular audits by a third party such as MSS Global.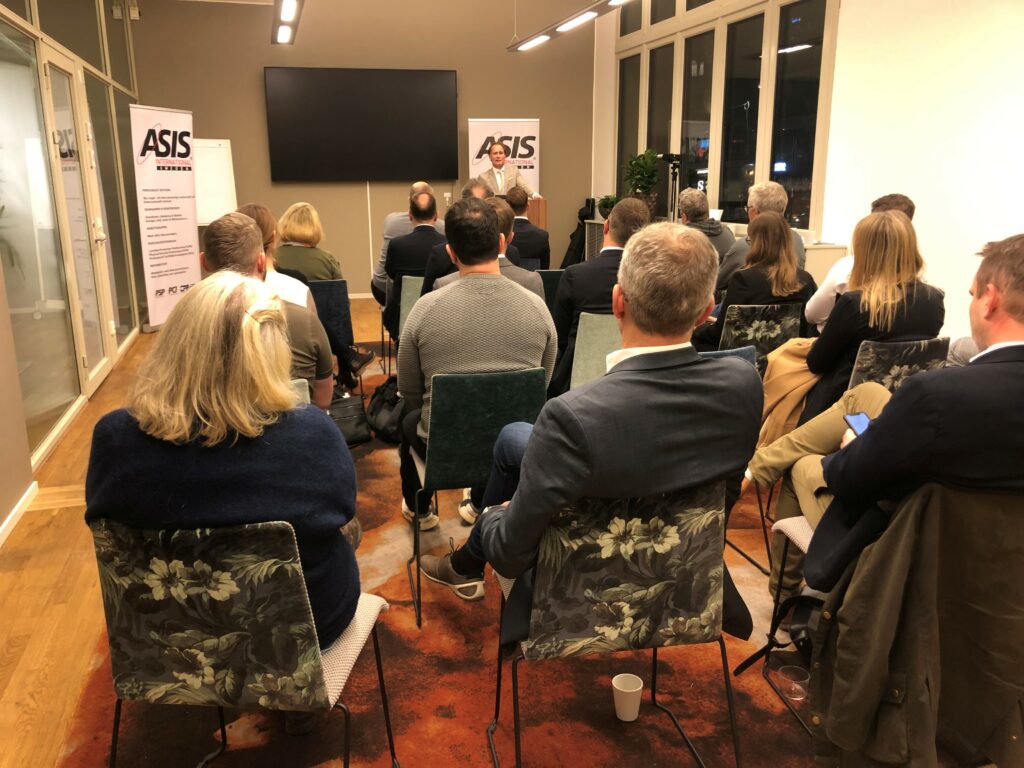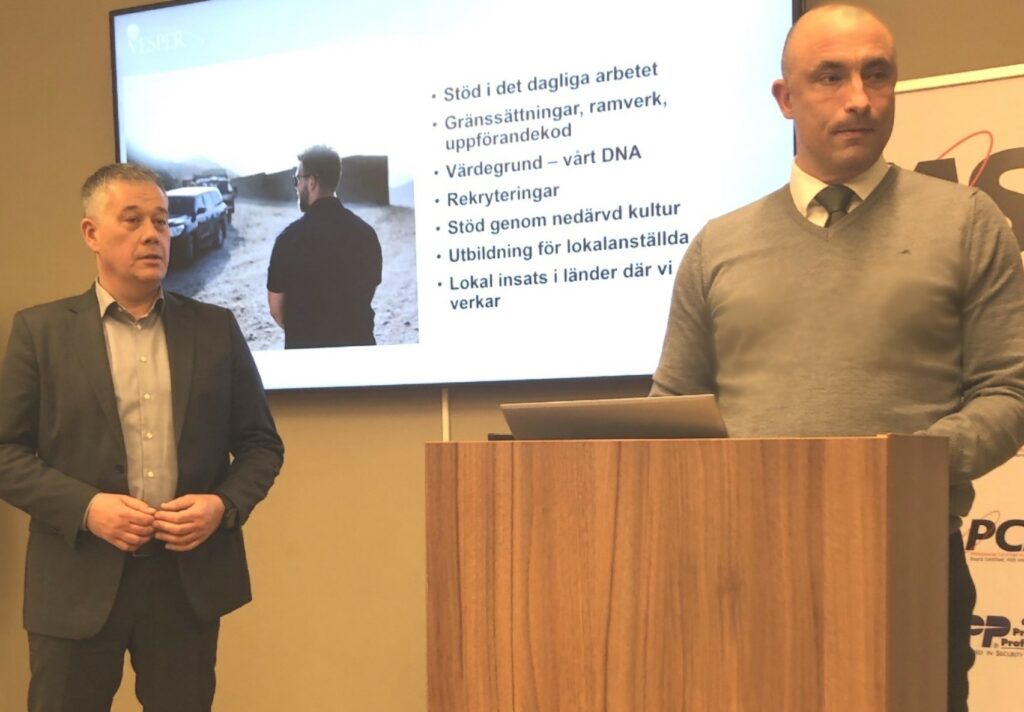 Full gallery at ASIS and many digital visitors      André Ahlin, ASIS and Richard Möller, Vesper Group 
Support and effect at many levels
Mr. Möller spoke about how the certifications and policies are used and guides Vesper on a day-to-day basis. The fruits of the hard work associated with getting and staying certified is now harvested when Vesper sets operational boundaries, creates and operates within frameworks, develops and adheres to codes of conduct, establishes basic working principles and recruits personnel. Also, through the workplace culture Vesper employees bring with them, they effect other parts of the world. Locally employed staff become part of that culture with the codes of conduct and guiding principal which in turn and can bring about positive change.
Mr. Möller encouraged customers to be demanding when procuring services from private security companies and pointed to the business opportunities Vesper Group achieves through certifications. He also described how having high ethical and moral standards and acting in accordance with certifications lay the ground for turning down business from customers whose operations and moral compass could come with ethical risks.
Read more about Vesper's close protection work.
Read more about the International Code of Conduct Association.